About the Designer
I have been in the metal fabrication field for over 30 years. In various custom job shops, my experience has included metal fabrication, ship fitting, drafting, and CNC programming. I have always been interested in making pieces that fit perfectly.
Having acquired working skills with hand tools, fabrication methods and such, in 1980, I contemplated building my own metal sailboat because ... I'm a sailor too.
After searching numerous designs, I purchased plans from Bruce Roberts, a well known designer of metal boat plans. I settled on a steel 34' hard chine sloop. No small endeavor, it took a year to complete the hull, and another year for the interior and outfitting. All done in my spare time on a rented strip of property.
I named the boat "Notion" because building it began with a notion. I sailed that boat for about 18 years. I knew every inch of it like the back of my hand, every weld on every plate.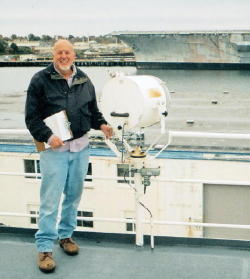 After I sold the Notion, I thought seriously about the only thing that boat was missing ... a curved hull. A true round hull shape was what I really wanted when I was first searching out plans, but they didn't exist for amateur metal boat building.
Out of intrest, I studied small craft design at Westlawn Institute of Marine Technology. I completed Westlawn's curriculum in April 1991.
When I merged my Small Boat Design skills to my long standing metalworking experience, I became preoccupied with conjuring up a design and construction method for easily build "One Of" true round metal hull. A requirement for my method of construction would have to be within the grasp of amateur builders, while appealing to professional builders.
I would like to share this process with all who are interested thru the construction of a classic styled true round hull - The "Bezier 12.5".
This build will show that "One Of" True Round metal hulls are within the skill level of amateur builders, and perhaps professional builder will also see it's merits.
BEZIER CURVE DESIGN
(The next logical step)
Email - info@metalsailboats.com
Telephone - 617-653-1063
Dennis Schaffer, Yacht Designer