Steel Mast Sections:
There are a number of section shapes that can be considered for a fabricated steel mast:  Oval, Rectangular with radius corners, Multi-sided, and Round.  All the sections are formed from sheet material and formed in a Press-brake with the exception of a Round section.  All the hardware attached to the mast can be fabricated including:  Mast Head, Spreaders, and Stay attachments to name a few. 
These fabricated steel mast are formed from sheet material between 16 or 14 gauge Cold Rolled Steel.  They are fabricated in half section with a center divider.  The center divider serves no structural purpose, but does provide dimensional alignment and stability during fabrication.

Forming Steel Masts
Multi-Sided Sections:
The pictures below show a multi-sided (Octagon - Eight Sided) mast I built for my personal boat the 'Notion'.  This mast stood on the 'Notion' for twenty years, that I know of.  The 'Notion' also crossed the Atlantic with it.  That should stand for some testimony.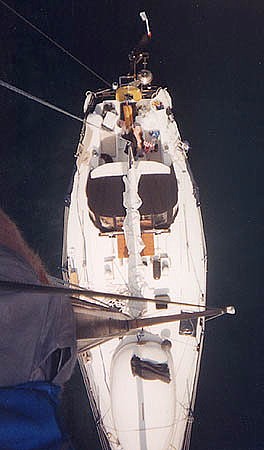 Rectangular with Radius Corners:
This configuration is detailed in my book 'Applied Metal Boatbuilding Methods - Sheetmetal Pattern Development'.  The book details how to develop - layout patterns for sheet-metal parts such as the mast column.  Using the sheet-metal methods in this book you would be able to determine the cut size and bend line locations for any part manufactured from sheet metal.

Oval Sections:
Oval sections are formed a little different from Multi-Sided and Rectangular sections.  Multi-Sided and Rectangular section are formed from a single stroke of a Press-brake to bend the metal to the desired angle.  Oval sections are shaped by 'bump' forming. 

Round Sections:
Round sections are formed exactly like Oval sections, the only difference is the outcome of shape.
---
All Copyrights Reserved - MetalSailboats.com
2009 - 2020
---