True Round Metal Boat Building
(Made Easy)
Bezier Curve Design & Construction
Bezier Curve Design is for "Builders" of Steel and Aluminum Boats. It is for amateurs and professionals alike. It is about building "True Round" steel and aluminum hulls. It is a design and construction methods simipfling the construction of "True Round" Hulls.
To illustrate the "Bezier Curve Chine" Construction method, metalsailboats.com has redesigned the Herreshoff 12.5 to be built from aluminum. In it's redesign the Bezier 12.5 holds true to the spirit and style of the original.
Currently, the "Bezier 12.5" is the only hull design illustrating how to construct a true round metal hull using the Bezier Curve Design method. The hull is presently under construction and near completion as pictured below.
Proof of Concept


Construction of the Bezier 12.5



Click Blue Button for More Photo,s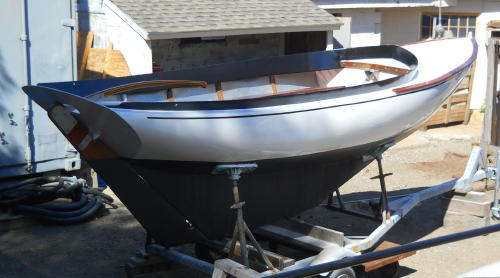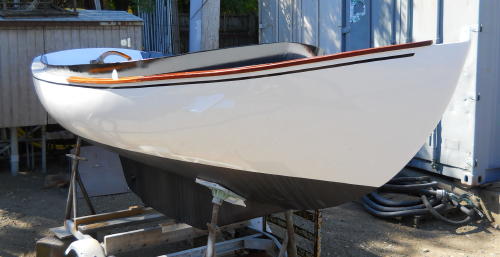 -------------------------------------------------------------------------------------------------------------------------------------
Metalsailboats.com does not just have a dialogue about obscure methods to build a true round hull. Metalsailboats.com details true round metal boat building methods using the "Bezier Curve Chine" construction methods which are simple, consistent, and predictable. Metalsailboats.com provides all the necessary Architectural drawing, full size patterns, and Cad-Cam files to build it.
If you think you have the skills to build a hard or radius chine hull, then you have the skills to build a true round hull using the "Bezier Curve Construction" method.
How to simplify TRUE ROUND metal construction
The first step towards simplifying construction of rounded metal hulls is a popular building method know as "Radius Chine". This method places a large single radius (arc of a circle) along and between two developable (flat) surfaces. While "Radius Chine" construction is a good first step towards rounded metal hull forms it is not a "True Round" hull form.
At it's best "Radius Chine" only imitates a true round hull. By it's own nature, "Radius Chine" severely limits hull shape to it's own end. By necessity the method places most of the curved section of the hull below the waterline, making it's hulls appear slab sided. "Radius Chine" does not produce the hull we all know, love, and want in our true round designs.
"Bezier Curve" takes the basic concept of "Radius Chine" to the next level. "Proof of Concept" of the "Bezier Chine Method" is presented by the construction the the Bezier 12.5 - A true round tumblehome design.
Bezier Curve Chine:
"One Of" Metal boat builders, like us, who have been limited to hard chine designs can now build true round metal hull using the "Bezier Curve" chine construction method. This innovative construction method enable you to build a true round design as easily as a hard chine design.
Bezier Curve Design and Construction does not use Line Heating, English Wheels, special tooling, fixtures, exotic methods, or Explosive and Hydraulic forming. The beauty of Bezier Curve is that I can actually teach you how to use it within metalsailboats.com. The method is consistent and predictable. There is nothing vague about the method both written and visual. You can see the process thoroughly by following the building of the "Bezier 12.5". Chose a topic on the "Right Toolbar".
You can compare the many similarities and differences between "Bezier Curve" chine and "Radius Chine"

Click Blue Button
Bezier Chine in a nutshell:
Bezeir Curve does away with vague and obscure techniques to achieve a true round hulls.
Hull panels are shaped using a cold forming "Press Break" process. The method is simple, consistent, and predictable.
Bezier Curve Design produces full size flat patterns of the hulls three dimensional surface. Information such as bend angle, forming line, and reference dimensions needed to form the flat patterns to it's original three dimensional shape are also provided with the each patterns.
The curved sections of this hull fit together easily, with minimal adjustment onto the framework.
The pre-engineered design and fabrication method enables an average person to build a true round bottom hull using the same skills as required in hard chine construction. There are no vague and obscure methods doable only by professional boat builders.
The result is the unmistakable beauty of a round hull - the uninterrupted graceful line curving to meet the water.
Dennis Schaffer, Yacht Designer
Telephone - 617-653-1063
Bézier Curve DESIGN
(The next logical step)