Steel Sailboat Masts
Way Back, when I was young and building my first steel boat, I chose to  fabricated a steel sailboat masts.  I thought that the money spent purchasing a commercially built mast could be better spent on products that I could not fabricate myself.  
I was a skilled metal fabricator, but at the time my engineering knowledge was limited, consequently I did a little research.  In one well-known book on Yacht Design, I read where Nathanael Herreshoff experimented with steel sailboat masts.
In another I learned how 'Euler's Slender Column' formula was used to size steel sailboat masts.  The interesting part was that Euler's included an option to design in steel, pivoting around the 'Module of Elasticity' and 'Moment of Inertia'.
With the information at hand, I decided that I would fabricate a steel mast for my first steel build using the overall section dimensions given by the Designer, with a twist.  The mast would be eight sided.
The steel sailboat masts, shown in the below pictures, stood on the 'Notion' for the twenty some years that I sailed her.  At over twenty years old her new owner successfully crossed the Atlantic, with that eight-sided steel mast that I built so many years ago.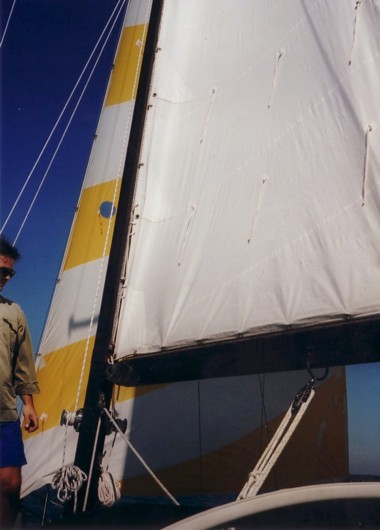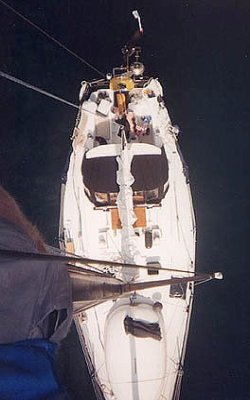 If you are a 'One of' builder, consider the time that it takes to build a steel over the time that you have to work a job to purchase a manufacture mast and all its hardware.
Either you are going to work a job to earn money to buy a commercially fabricated mast system or you could spend that time building a Steel Mast.  In either event you are going to spend time.  It is just a matter of where you chose to spend your time.
If you are a steel 'Commercial Boat Builder' think back to the time when sailboat masts were made of wood and were just another part of the build.  I am thinking, Steel boats – Steel masts, just another part of the build.
The Mast I fabricated was part of the 'Notion' for the over twenty that I sailed.  Her new owner cross the Atlantic with that mast, that I fabricated so many years ago.  The details showing  how that mast was constructed is detailed in my book 'Steel Sailboat Mast' available on 'Amazon'.  The book is available in PDF file format here on this website.
---
All Copyrights Reserved - MetalSailboats.com
2009 - 2023
---